---
The Sculpture Art of Henry Moore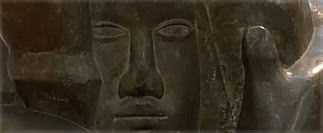 Henry Spencer Moore (30 July 1898 – 31 August 1986) was an English sculptor and artist. He was best known for his semi-abstract monumental bronze sculptures which are located around the world as public works of art.
His forms are usually abstractions of the human figure, typically depicting mother-and-child or reclining figures. Moore's works are usually suggestive of the female body, apart from a phase in the 1950s when he sculpted family groups. His forms are generally pierced or contain hollow spaces. Many interpreters liken the undulating form of his reclining figures to the landscape and hills of his birthplace, Yorkshire.
Moore was born in Castleford, the son of a coal miner. He became well-known through his carved marble and larger-scale abstract cast bronze sculptures, and was instrumental in introducing a particular form of modernism to the United Kingdom. His ability in later life to fulfill large-scale commissions made him exceptionally wealthy. Yet he lived frugally and most of the money he earned went towards endowing the Henry Moore Foundation, which continues to support education and promotion of the arts.
Early life
Moore was born in Castleford, West Yorkshire, England, to Mary Baker and Raymond Spencer Moore. His father was of Irish origin and became pit deputy and then under-manager of the Wheldale colliery in Castleford. He was an autodidact with an interest in music and literature. Determined that his sons would not work in the mines, he saw formal education as the route to their advancement.[3] Henry was the seventh of eight children in a family that often struggled with poverty. He attended infant and elementary schools in Castleford, where he began modelling in clay and carving in wood. He professed to have decided to become a sculptor when he was eleven after hearing of Michelangelo's achievements at a Sunday School reading.
On his second attempt he was accepted at Castleford Secondary School, where his headmaster soon noticed his talent and interest in medieval sculpture, and which several of his siblings had attended. His art teacher broadened his knowledge of art, and, with her encouragement, he determined to make art his career; first by sitting for examinations for a scholarship to the local art college.
Despite his early promise, Moore's parents had been against him training as a sculptor, a vocation they considered manual labor with few career prospects. After a brief introduction as a student teacher, Moore became a teacher at the school he had attended. Upon turning eighteen, Moore volunteered for army service. He was the youngest man in the Prince of Wales's Own Civil Service Rifles regiment, and was injured in 1917 in a gas attack during the Battle of Cambrai. After recovering in hospital, he saw out the remainder of the war as a physical training instructor, only returning to France as the Armistice was signed. In stark contrast to many of his contemporaries, Moore's wartime experience was largely untroubled. He recalled later, "for me the war passed in a romantic haze of trying to be a hero."
---
Beginnings as a sculptor
A Chac Mool stone statue at Chichen Itza site, Yucatan Peninsula, Mexico. This reclining Toltec-Maya figure influenced Moore's sculpture.
After the war Moore received an ex-serviceman's grant to continue his education and in 1919 he became a student at the Leeds School of Art (now Leeds College of Art), which set up a sculpture studio especially for him. At the college, he met Barbara Hepworth, a fellow student who would also become a well-known British sculptor, and began a friendship and gentle professional rivalry that lasted for many years. In Leeds Moore also had access to the modernist works in the collection of Sir Michael Sadler, the University Vice-Chancellor, which had a pronounced effect on his development. In 1921, Moore won a scholarship to study at the Royal College of Art in London, along with Hepworth and other Yorkshire contemporaries. While in London, Moore extended his knowledge of primitive art and sculpture, studying the ethnographic collections at the Victoria and Albert Museum and the British Museum.
The student sculptures of both Moore and Hepworth followed the standard romantic Victorian style, and included natural forms, landscapes and figurative modelling of animals. Moore later became uncomfortable with classically derived ideals; his later familiarity with primitivism and the influence of sculptors such as Constantin Brâncuşi, Jacob Epstein, Henri Gaudier-Brzeska and Frank Dobson led him to the method of direct carving, in which imperfections in the material and marks left by tools became part of the finished sculpture. Having adopted this technique, Moore was in conflict with academic tutors who did not appreciate such a modern approach. During one exercise set by Derwent Wood (the professor of sculpture at the Royal College), Moore was asked to reproduce a marble relief of Domenico Rosselli's The Virgin and Child by first modelling the relief in plaster, then reproducing it in marble using the mechanical technique of "pointing". Instead, he carved the relief directly, even marking the surface to simulate the prick marks that would have been left by the pointing machine.
In 1924, Moore won a six-month travelling scholarship which he spent in Northern Italy studying the great works of Michelangelo, Giotto di Bondone, Giovanni Pisano and several other Old Masters. During this period he also visited Paris, took advantage of the timed-sketching classes at the Académie Colarossi, and viewed, in the Trocadero, a plaster cast of a Toltec-Maya sculptural form, the Chac Mool, previously seen in book illustations. The reclining figure was to have a profound effect upon Moore's work, becoming the primary motif of his sculpture.
---