---
The Impressionists Episode 1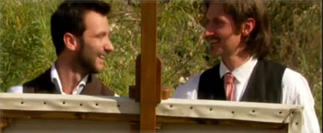 Based on archive letters, records and interviews from the time, the series records the lives of the artists who were to transform the art world. A tale of poverty and of a struggle for recognition, set against a backdrop of war and revolution.
At the heart is the brotherhood of artists, bonded by enduring friendships and their commitment to a new type of art. The story is led by the paintings. Some of the world's most memorable art works are recreated, following the same techniques that the artists used at the time.
The series reveals how Claude Monet took just 40 minutes to paint his seminal work Impression, Sunrise in a race against time to capture the light; why Manet's depiction of Olympia, in which his model brazenly gazes out of the canvas, so outraged Parisian society; and how Ce'zanne's 60 paintings of one mountain, Montagne Saint-Victoire, laid the foundations for Cubism and modern art.
Description continued after videos………….
[youtube odq1HOSnQ9Q 700 555]

---
[youtube B2TqXWu1kXA 700 555]
---
[youtube -hh-MjyNFEQ 700 555]
---
[youtube Q1IxZCldS5A 700 555]
---
[youtube StzAp5USU_Q 700 555]
Julian Glover plays 80-year-old Monet, the "father of Impressionism" and narrator of the series. He undertakes a nostalgic but painful journey as he looks back on his past life in an interview with a journalist at his garden in Giverny.
He remembers arriving as a young man in Paris in 1862 full of dreams about a new kind of art. Young Monet, played by Richard Armitage, leads the group of friends with his vision for paintings that capture the images, energy and light of the modern world.
In the drama, Monet describes his fellow artists and supporters with whom he struggled and shared so much: Bazille, played by James Lance, the little known genius who died too soon to enjoy the movement's success; Renoir, played by Charlie Condou, an irrepressible lover and painter of women; Manet, played by Andrew Havill whose work was Monet's first inspiration, but was censored by society; Degas, played by Aden Gillett, who captured the back stage reality of the ballet world; Ce'zanne, played by Will Keen, whose innovative work determined the path of modern art. Amanda Root plays Alice Hoschede', Monet's great love.
Using quotes from the primary sources, the series depicts the characters' idiosyncrasies Ce'zanne's hatred of barking dogs, his mistress Hortense's love of lemonade, Monet's flamboyant dress sense and Degas' irritability.
---